Since 2007 Simon Rickett's Fast Effective Persuasion System has produced, extraordinary sales results for numerous companies.
The success of FEPS has seen Simon and his businesses reach multiple business award finals including him being recognised in the top 3 Young Entrepreneurs in the U.K. in the Fast Growth Business Awards in 2000
This system has achieved millions of pounds worth of sales and has benefited a whole range of businesses.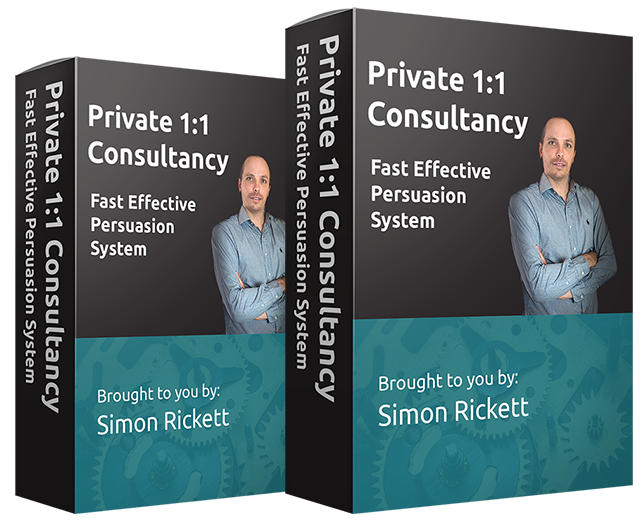 What Simon Rickett provides is designed to focus on how persuasion can be used to align business success through implementing proven marketing automation techniques, psychological customer profiling and persuasive copywriting.
You and your business will learn the elements of the inner game of converting more sales, and what can be used to nurture the prospect all the way through the buying process. Your business will start to become the wealth creation vehicle you had hoped it could be as you build the necessary foundations to build, manage, grow and prosper as you gain the confidence to convert more sales.
Using his direct and straight talking approach you will be trained on how to use a powerful system that has generated millions of pounds worth of sales over the years, attracted thousands of customers and there is no doubt the results speak for themselves. Results include:
Simon creating 3 million pound plus companies from scratch
Thousands of clients secured in less than 2 years
Over £60 million worth of deposits into the financial products of the businesses Simon has consulted for
Simon splits his time running his business and consulting with companies seeking fast growth.
Consultancy can be provided through, 1:1 training for key company executives, team training weeks, or ongoing strategic consulting on how the Fast Effective Persuasion System can work for you.
You will learn:
The power of marketing automation combined with persuasive copywriting and how when used effectively and at the right time of the buying process can drive more sales
Secrets of Prospect Power – The mind game of letting the prospect feel in control when you in fact control everything and remain with the POWER
Creating customers for life as they never feel pressured and by when they are ready to buy – Selling in this way creates a never ending referral system that gets stronger and stronger as your business develops
The 3 key elements of the Fast Effective Persuasion system – Marketing Automation – Psychological Customer Profiling – Persuasive Copywriting to build a highly effective and persuasion system that is highly effective for your business
If you are seriously looking to fast track your business growth, and willing to put the effort in to master sales and marketing techniques that have proven time and time again to significantly increase profits for businesses you have 3 options of membership to choose from. View all membership options here
Alternatively if you lay would like Simon and his team to work with your business on a "Private 1:1 Consultancy Basis" head on over to Simon's marketing agencies website to book his services for fast growth, visit www.convertz.co.uk for further details. The businesses Simon primarily consults for are medium-large businesses in the Financial sector – If this isn't your business check out all available membership options here